Are you tired of your wardrobe feeling a little lackluster? Want to add a touch of personality and pizzazz without breaking the bank? Look no further than iron-on embroidery patches!
These babies make it easy to customize any item in your wardrobe with stylish designs that reflect your unique personality. And the best part? No sewing is required! All you need is an iron or heat press and a little fabric glue if you're feeling fancy.
In this article, we'll take you through the simple steps to create amazing looks with iron-on embroidery patches in no time. So get ready to take your fashion game to the next level and let's get started!
What Is Iron On Embroidery Patches And How Do Iron On Backings Work?
Iron-on embroidery patches are an easy and efficient way to customize clothing, fabric bags, and other materials. They come in many styles, shapes, sizes, and colors so they can be used for a variety of projects.
Iron-on backings also make it easier to attach the patch securely onto fabrics without any additional glue or stitches needed. Custom logo patches with iron-on backing can be found online or at most craft stores.
The process is simple: simply place the patch where you'd like it to go on the garment or fabric item, cover it with parchment paper or a pressing cloth (to protect the fabric), then press down firmly with an iron set to medium heat for about 20 seconds.
That's all it is, no sewing required! Your new custom logo patch will now be securely attached and ready for your next project.
Difference Between Iron On And Sew-On Embroidery Patches
There are a few things that make a difference in iron-on and embroidery patches which we are going to discuss in detail.
1. Materials
Hey there, budding embroiderers! Let's talk about materials.
Iron on patches are the most popular choice when it comes to adding a logo patch or iron on embroidery patch to your clothing and accessories. The material is usually made of felt with an adhesive backing that makes them easy to attach without having to sew them in place. This can be a great alternative for those who don't have access to sewing tools or lack the time or patience needed for hand-sewing.
On the other hand, sew-on patches require thread and a needle (or an embroidery machine) but they tend to last much longer than their iron-on counterparts. So whether you're looking for a quick application or something more permanent, there's an option for everyone depending on what kind of project you're tackling.
2. Application
Now that you know the difference between iron on and sew on patches, let's talk about application.
An iron on custom patch is great for those looking to quickly add a logo or design onto clothing or accessories since it requires no thread, needles, or embroidery machines. Customizable iron on patches are also easy to find online with plenty of designs and sizes to choose from.
But if you're after something more permanent, opting for a sew-on patch will ensure your artwork lasts longer than its iron-on counterpart.
So whether you want quick application or durability, there's sure to be an option out there for every project!
3. Durability
When it comes to durability, sew-on embroidery patches are the way to go. They're designed to be long-lasting, so you don't have to worry about your design fading or falling off after a few weeks of wear and tear.
Plus, since they require stitching onto fabric with needles and thread, there's no chance of them coming undone; meaning your artwork will stay intact for years.
Benefits Of Using Iron On Embroidery Patches
The previous section discussed the differences between iron on and sew on embroidery patches, but for those looking for an easy way to customize their clothing, there are many benefits of using iron on patches.
With this type of patch, you don't have to worry about carrying around a needle and thread or even having any sort of sewing expertise – all that's needed is an iron.
Iron-on embroidered patches can be applied in no time at all; just place the patch onto your fabric item with the design facing up, cover it with some parchment paper (or similar), then press down firmly with a heated iron until done.
There's also much less chance of ruining clothes when applying them as opposed to trying to sew them yourself.
Plus they're not permanent so if you ever want to remove the patch from your garment, simply peel it away without damaging the fabric.
How To Iron On A Patch With A Household Iron
Before you get started, make sure you've got the right patch for the job.
Prep it up by giving it a good press with your hands and then you're ready to begin ironing!
Once you've got your iron heated up, it's time to get that patch on your garment.
Step 1 – Preparing The Patch
Ah, the joy of seeing a beautiful patch adorn your favorite clothing item!
Preparing it for application is simple and straightforward. With just a few materials in hand, you'll be ready to start ironing.
Gather up an embroidery patch, a household iron, and some parchment paper or another thin cloth material that won't melt when placed over the fabric. Take care not to touch the hot surfaces on the iron with your skin; you'll want to ensure that your patch sticks as securely as possible!
Now, let's get started – time for an eye-catching transformation!
Step 2 – Ironing The Patch
Time to get started on ironing that patch!
Set your iron to the highest setting and make sure it's plugged in.
Place your parchment paper or fabric over the patch and place it face-down onto the clothing item you're working with.
Once everything is in place, press down firmly with the heated iron for about 25 seconds – that'll ensure a secure bond between patch and cloth.
When done, let the piece cool before flipping up – voila!
You've successfully affixed your stylish patch and now you can show off your masterpiece.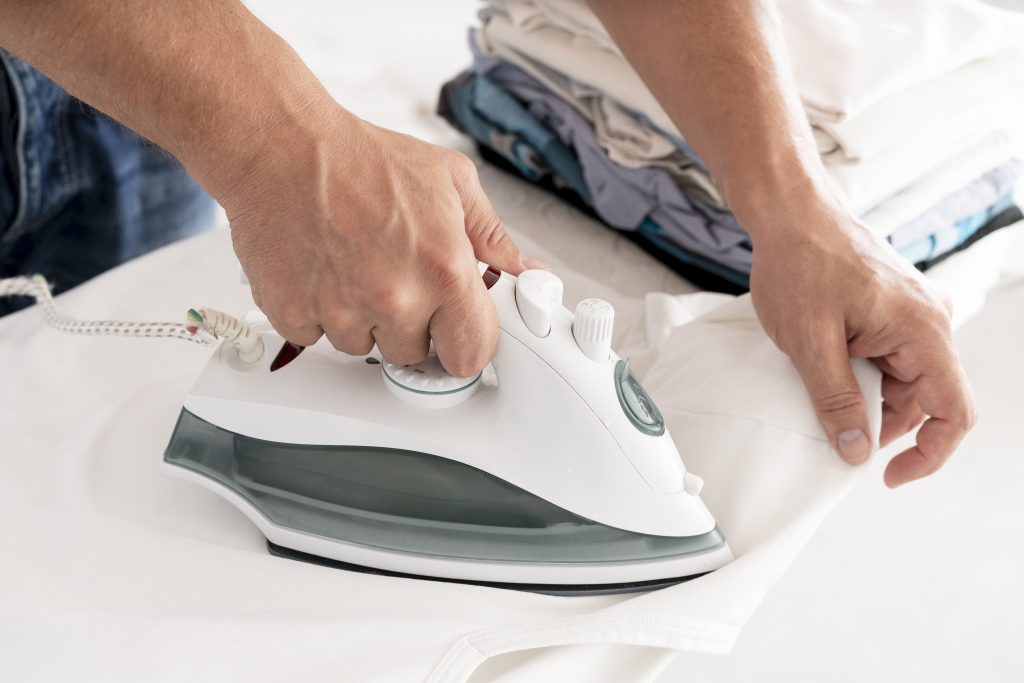 Where To Get Iron On Patches
When it comes to finding the perfect iron-on patch, there's no shortage of places to check out. Whether you're looking for a classic biker patch or something more unique and personalized, you can find just what you need online.
Retailers like Patch Superstore offer an extensive range of patches in all shapes and sizes, so you're sure to find one that fits your needs. Plus, their selection includes both traditional embroidered designs as well as modern laser cut options.
If you'd prefer to make your own custom design, many sites also offer custom patch creation services. Sites like Stadri Emblems allow customers to upload artwork and create customized patches with ease. They even have helpful tools such as shape guides and color swatches which help ensure your patch looks exactly how you envisioned when it arrives at your door.
And if you don't feel comfortable designing from scratch, they have pre-designed templates available too – making creating a high-quality iron-on patch easier than ever before!
No matter where you decide to source them from, iron on patches is sure to bring some extra flair and personality to any fabric project. With endless possibilities ranging from intricate details created by hand stitching, to eye-catching laser cuts made using advanced technology; these versatile pieces of art will be sure to stand out wherever they go.
Conclusion
Iron on embroidery patches are a great way to add personality, flair, and style to any outfit. They're simple to use and can be done in the comfort of your own home with nothing more than an iron.
With so many designs and colors available, there's something for everyone! Whether you want to show off your favorite team or just add some spice to an old shirt, iron on patches are the perfect solution.
Read More Left Chest Digitizing
Frequently Asked Questions:
1- Do iron on patches work on leather?
Yes, iron on patches can work on leather. This is because the patches are designed to adhere to the material when heated. To attach an iron on patch to leather, you will need to use a heat press or an iron on a low setting with a towel between the patch and the leather. You should also ensure that the patch is firmly pressed against the leather for a few seconds so that the adhesive has time to bond to the material.
2- Are iron on patches removable?
Yes, iron on patches are removable, although the method of removal varies depending on the material of the patch. Generally speaking, most patches can be removed from fabric by soaking in warm, soapy water, or by using a fabric adhesive remover. However, patches that have been applied to leather may require the use of a solvent such as acetone or rubbing alcohol.
3- Are all patches iron on?
No, not all patches are iron on. Some patches are sewn onto clothing, and others are adhesive patches that can be applied without the use of heat.
4- Can iron on patches be washed?
Yes, iron on patches can be washed. However, it is important to remember that high temperatures and harsh chemicals can damage the adhesive on the patch. To ensure that the patch remains secure, it is best to wash the garment on a gentle cycle and in cold water.
5- Do iron on patches work on denim?
Yes, iron on patches can work on denim. However, it is important to remember that denim is a thick and sturdy fabric. To ensure that the patch adheres properly to the fabric, you should use a heat press or an iron on a low setting with a towel between the patch and the denim.