Vectorization of Artwork
Karen's vectorization services are incomparable to any other raster-to-vector art services. We have a good number of customers at the most reasonable prices. We never trace any artwork to vectorization. We draw each detail properly for high-quality prints. You will learn more about vectorization here, let's get started:
Vectorizing: Detailed Overview
Vectorizing is the process of redrawing a raster artwork into a scalable graphic that can be used in small or large sizes for high-quality products for your garments. Marketing and advertisement agencies are looking for graphic designers to do vectorizing for them so they can use a bitmap image to convert it into vector art. Vectorizing is useful when you transform your vector-ready design into any size you want and accomplish your customer's requirements.
Vectorization
We have learned a lot from time to time. Our experience vectorization team is now proving honor for our customers. Karen's Digitizing set up a vectorization department in 2005. Today, we have the best-skilled team of vector graphic designers in the market. Our excellent vectorization services pick up acknowledgment from our customers daily. If you are looking for the best vectorization on a pocket-friendly budget, get a free quote now.
Vector Conversion
An image is composed of numerous small rectangular or square elements called pixels. These pixels entail image details and together make up the raster image. But when we are considering use in promotional and branding material, vectors have no comparison with raster bitmap images. When a bitmap image or raster format like JPG, JPEG, BMP, or GIF, it cannot be scalable for promotional stuff for printing and heat transfer purposes. When you are going to resize your raster image so that will be distorted, losing the graphic quality. Therefore, these images could be blurry and jaggy view. That obviously doesn't look good.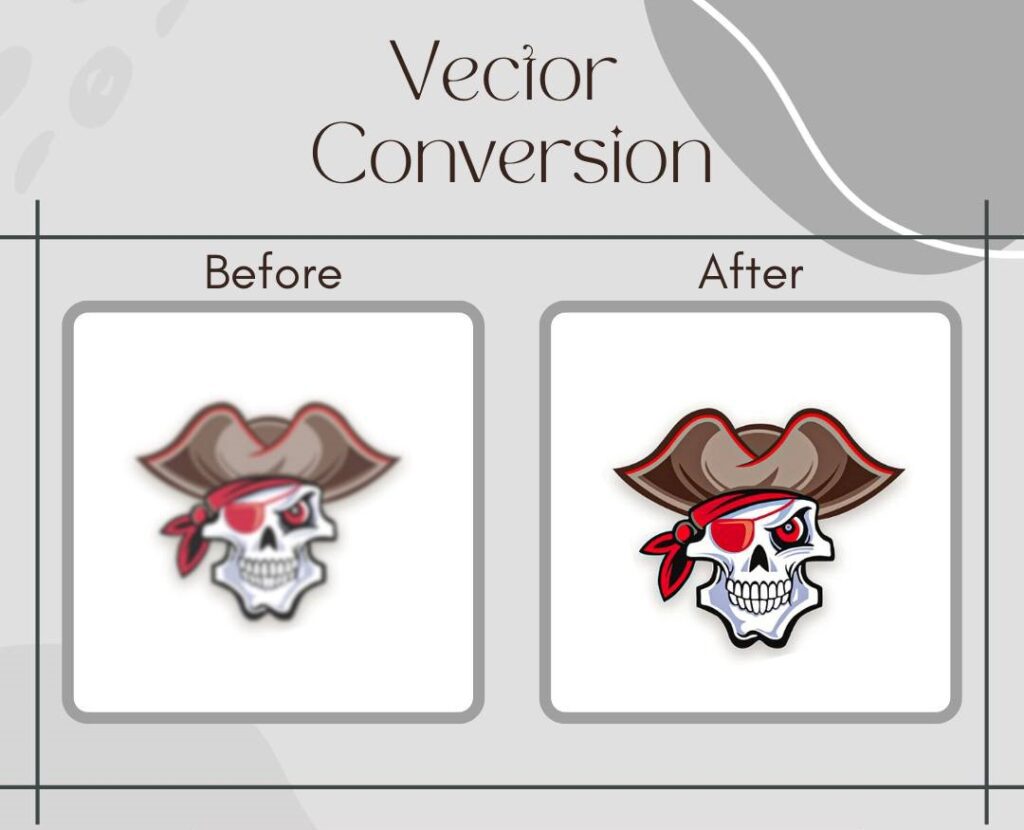 How do we "vectorize" an image?
At Karen's Digitizing we do absolutely manual drawing with fully hand-drawn images to vector art conversion, we provide world-class but affordable vector art services in a quick turnaround time.
What is the definition of a vector image?
Vector objects, such as lines and shapes, vector text, or vector groups, are composed of geometric characteristics and can easily be edited.
Here's an example of the visual differences between vector and raster bitmap art. In the busy world of graphic design, images, and files are edited, shared, and outsourced to vendors on a daily basis. I
t would be ideal if everyone spoke the same design language, but that is not always the case. Not all files are created equal. Vector files can be created using graphic design software, such as CorelDRAW, and raster files are created and manipulated in other types of software programs.
What is the definition of a raster or bitmap image?
It is layers composed of individual pixels which can be seen as squares of color when magnified, plus raster layers let you display exquisite changes in tones and shades.
Converting Various File Types to Vector
The vectorization process is quick and easy with the built-in technology of the PowerTRACE™ engine. It provides the best tracing results and turns the most demanding bitmap images into high-quality vector objects. With a few simple steps, you will be able to convert an existing raster or bitmap file, such as a JPG, BMP, or PNG file, into a vector file.
Jpeg vs. Vector Art Converted
Most images in their native state are raster images or bitmap images. These images utilize rows and columns of pixels made of different colors to render the image. Bitmap images are quite common (.JPEG, PNG, etc) and are fairly easy to understand.
Bitmap images, due to their expression via bitmap, are resolution-dependent. If you need to resize a bitmap image you will reduce the quality of the image. Resizing the image to be smaller forces you to get rid of pixels, and if you increase size the lines and curves become jagged and defined by a clear gradient.
Editable Vector Graphics
Vector images are path-based – they are composed of mathematical equations so the image itself is easily scalable. Because of this, vector images are considered resolution independent. Vector images have a specific artificiality to them because they are completely computer-generated. They'll never look photo-realistic. However, one can individually resize and retool specific shapes and components of vector images without destroying the image itself. This makes vector images very useful for graphic designers.
Convert Images to Vectors
As you know that raster images are built out of pixels, vector-converted artwork is scalable and you can enlarge it to any length without losing quality. They have very limited flexibility. If you are trying to enlarge a raster image to make it bigger than its actual size or shrink it to make it small, you will notice that it is pixelated on each action. It's not possible to use a raster image for promotional campaigns. Need raster to vector conversion we can definitely do it for you.
Vectorize Images
Raster jpeg or bmp files are great when they are the right size. But when you need to enlarge an image or raster images. You can't scale very well without becoming distorted. lets you convert your images to vector with Karen's Vector Conversion Services.
Raster to Vector Art
At Karen's Digitizing, we acquire the most innovative artists; they are well-skilled in all puzzles of vector art. Our vector artists are capable to convert all your raster images into high-resolution vector images. With sufficient industrial background and expertise in converting your artwork in the form of JPEG, bitmap, GIF, and other raster files into vector graphics, our vector art professionals can handle these reconstructions efficiently.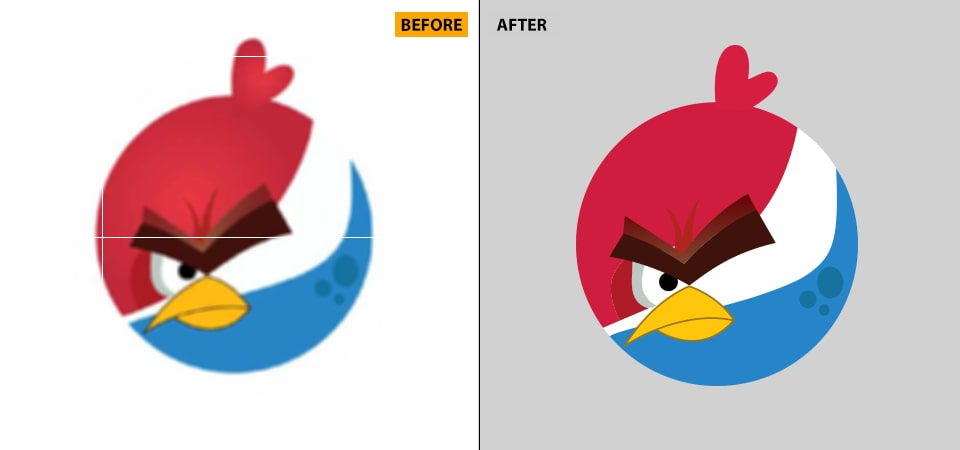 Our Vector art conversion services can be used to convert any artwork instead it is simple, advanced, or most complex raster, our vector artists can excellently convert all artworks to vector formats like AI, EPS, CDR, or PDF as per the required format. Our high-quality vector conversion can be used for printing on t-shirts, caps, signboards, or any promotional material. They can easily be resized by keeping the rectitude of the artwork perfectly.
A business logo represents your identification and plays a key role in corporate branding. Therefore, it is necessary to have a perfectly converted vector image before going to print your stuff.
If you've been looking for a top-quality raster to vector conversion services, your search ends here.
Wondering about vector art conversion service with less than 24 hours turnaround time, place your orders with us now.
Redrawing of Raster Images as a Vector
Our procedure of converting a raster image is actually redrawing the image in a vector form. You cannot vectorize a complex image by uploading it to some online website software and getting it done automatically within seconds. In fact, a professional vector artist works on it manually by drawing each element by hand using a pen tool. Our department head Muhammad Hamid is a top-quality vector artist. He is leading a team of graphic designers at Karen's Digitizing. This is the main reason you are getting the best vector quality in the first delivery.
Vector Illustrations
We vectorize our designs on top-rated software in the graphics designing industry. Creating vector art on Adobe Illustrator and we are transforming Corel Draw CDR files on demand. This enables us to deliver our best vector art conversion services. This software is up to date with the latest features. While redrawing the details of artworks, this software keeps creating high-quality vector illustrations.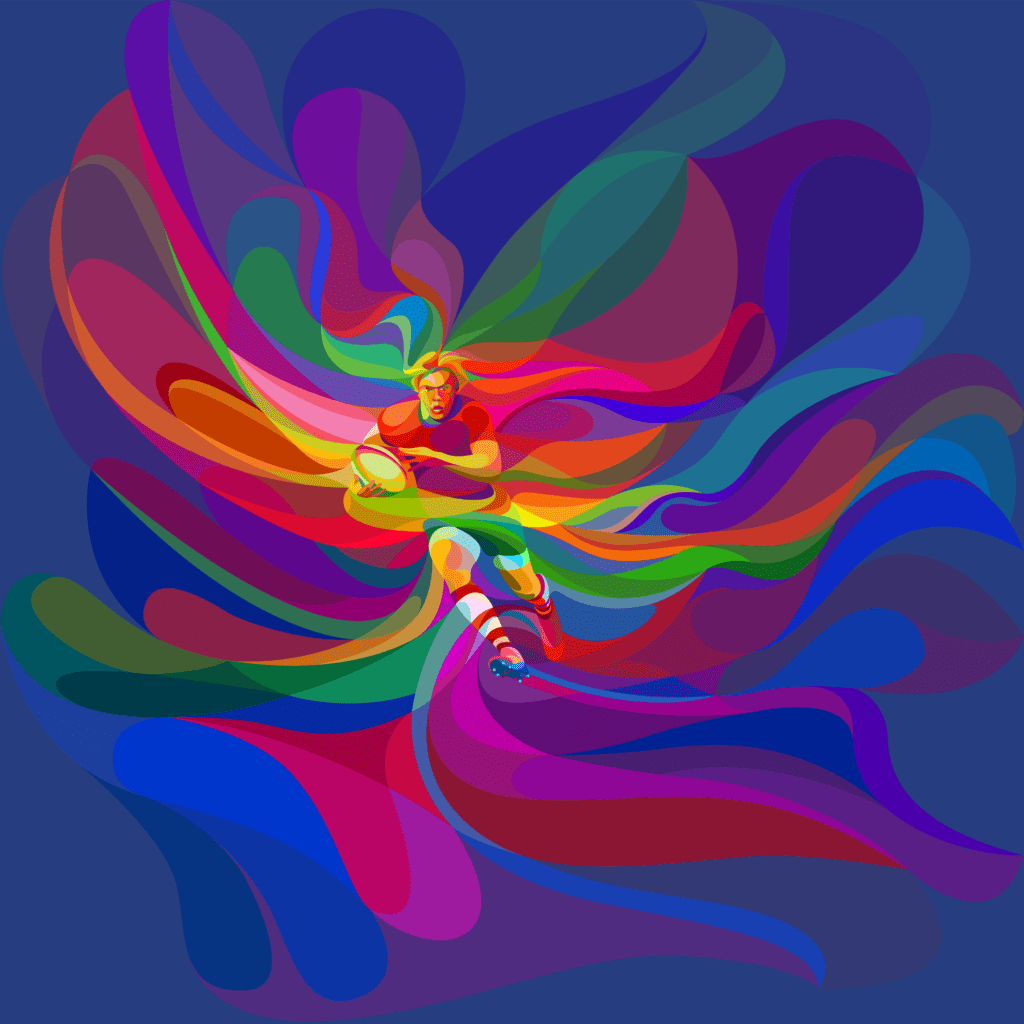 Our customers are getting vector illustrations with extra assistance. Need vector illustrations for your logo or any other artwork then feel free to contact us.
We Provide Various Types Of Vector Art Services
Karens provides the best quality vector art conversions worldwide. We have many satisfied clients that choose us for long-term projects because of our quality and expertise. We provide different types of vector art services, whether it's raster to vector or jpg to vector etc. We are very excited to make your projects as well and take them to another level. Get connected today to get the best Vector Art Conversion Service.
Get Vector Images Free
At Karen's Digitizing, we take responsibility for our vector art conversion work. We are devoted to giving you our top-quality vector conversions. Professionally converted vector art files will be provided to clients beyond everything else. Looking for vector images for free we will send you what we have in our record, we provide proper redraw on every raster file. We delivered vector images free of any additional charges in case of any needed edits we will always have a fix because we believe in customer satisfaction.
Check our Article: All About Embroidery Digitizing | Complete Guide