Whether you are into the embroidery digitizing business or a complete beginner in the complex digitizing world, we will help you explore a very profitable area of embroidery digitizing, a jacket-back digitizing service.
In this cold wave engulfing the earth at the start of the year, millions of jackets are being pulled out, bought, and embroidered for people worldwide. Once you get the embroidery digitized, you will find a thousand customers for Jacket back embroidery service.
This article will help you know how you can profitably digitize embroidery designs for jacket backs and, which embroidery machine is best suited for jacket embroidery, what tips will help you perfectly digitize a design or logo on the Jacket.
Which embroidery machines are used for jackets and hats digitized?
Several top-notch embroidery machines are available for your sewing and digitizing needs. Choosing the best machine solely depends on your needs as an embroidery digitizer.
If you are a total beginner, you will require some training before operating an embroidery machine on your own, and it is not a piece of cake to work with an embroidery machine. So make sure to learn the how-tos of digitizing embroidery and then invest in a good embroidery machine for you.
Look for the best brands offering efficient embroidery machines for home and commercial business needs. The most popular embroidery machine brands include BROTHER, JANOME, BERNETTE, and BABY LOCK.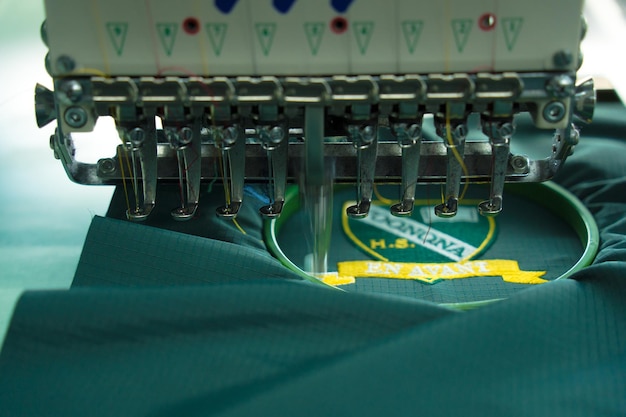 Features of Good Embroidery Machine
When choosing an embroidery machine, look for the following features and decide on your purchase.
How easy is it to use the embroidery machine? The more complex the functions of a device, the more difficult it will be to work with it.
How does it perform? You will be creating different styles and designs from your embroidery machine, and it should be able to handle all kinds of designs you want to stitch on the Jacket back or hats. Review different embroidery machines and their performance to decide the best option.
How much design area( hoop option) does it have? This feature depends on how big your embroidery area will be and what hoop options are available with the machine. When providing full-back jacket embroidery digitizing services, you will need.
Multi-needle or single-needle machines: The difference between a multi-needle machine is that a single-needle unit will be embroidered with a single color thread and requires manual changing. A multi-needle will help you embroider in different colors simultaneously.
How to use an embroidery machine for Jacket back digitizing?
To use an embroidery machine, first, upload the design file to the digitizing software for converting the design file to a readable format for the embroidery machine.
For jacket back embroidery digitizing, you have to
Choose a design to be digitized from the available ones on the machine or upload a custom design via a USB port.
Using the right software convert the design file to a readable file format for your embroidery machine.
Select the right option for the hoop and set the fabric to be embroidered.
Fine-tune the settings for the embroidery machine and get your Jacket back embroidered using the device.
Tips for Efficient Jacket Back Digitizing
Digitizing a jacket back is a complex technique requiring expertise and a proper skillset. If Jacket material is not tough enough to hold the stitches in line, a stabilizer is used for holding the stitches.
Following are the tips for efficient embroidery digitizing on jacket backs:
Always consider the size and placement of the design you choose for the Jacket back. The larger your design choice is, the more space it will take up and the more time.
Use simple designs rather than complex multicolored designs. Colorful designs require more effort and precision and may not appear as neat as simple designs.
Use the right software suitable for your embroidery machine. Automatic stitching, auto-digitizing, and stitch editing are efficient software features that save time.
Carry out a test of the chosen design on a scrap patch before production. You can detect any mistakes in design and see the problems in neatness if the design comes out not as desired.
Use contrasting thread colors that correspond with the Jacket's color and fabric.
Make use of the Jacket's seams and edges. The edges of the Jacket can be embroidered and can avoid the need for additional fabric or stabilizer, making the process more efficient.
Use the correct stitch types: Using suitable stitch types for different design areas can improve the embroidery's overall quality.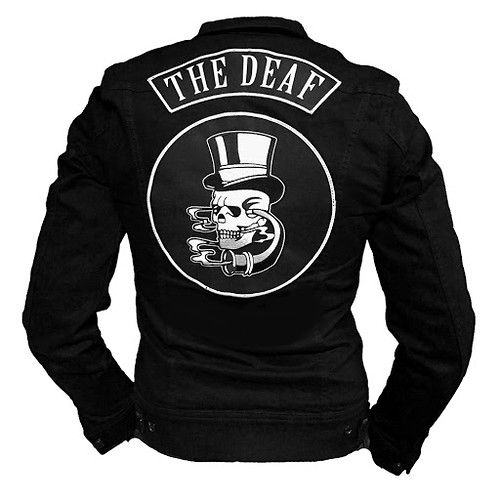 How to prepare your leather jacket for embroidery digitizing?
Leather comes in different types, and each has various qualities to consider to prepare embroidery.
Here are a few things to remember when choosing a leather fabric for embroidery
Needles will leave holes in the leather so the fabric will not stretch back together. These choose simple and light designs for stitching on leather.
The needle size should be 80/12 for leather fabrics.
Using a stabilizer will help hold the leather together pre and post-embroidery. Use a cutaway stabilizer for leather.
Always hoop your fabric so that instead of material, the hoop moves along the embroidery.
Embroider at a relatively slower speed for leather fabric as the leather pulls up along the stitches.
Conclusion
This article provides a detailed guide about the jacket back digitizing and it will help you in the future. You must have to follow the steps which we tell you about the digitizing needs. This way you can do your work easily and get your desired embroidery digitizing results.
Karens Digitizing provides the best Jacket back embroidery digitizing at competitive market prices. The expertise and professional digitizing service we provide are unmatchable in town. To get faster turnaround and customized Jacket back embroidery digitizing, email us at: karensdigitizing@gmail.com
FAQS
How to digitize a logo on a jacket back?
Ans: To digitize any design or logo on fabric, First, upload the design file to the respective software of the machine you will use. Next, convert the design into a readable file format and save that file. Then set the design and stitch type. Finally, get the Jacket and set the stitch direction to start the digitizing process.